Rohan Moore
President & CEO
2468506480
$6,000,000
Total Finished Area: 0.000 sq. Feet
Bedrooms: 4.0
Bathrooms: 3.0
THIS CAN BE YOUR DREAM HOME! Four(4) bedrooms 3 bathroom house for sale. Asking BDS$6 million, USD$3 million. This is a beautiful well-designed house, located on the border between St. Michael and St. George, 10 kilometers from Grantley Adams International Airport and 7 kilometers from the...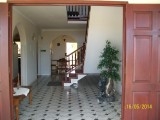 Sorry, there is no mortgage information
available for this listing.